Hello, everyone! Therese Woodson here and I'm guest posting on Lillian's blog today to promote my newest novella Clockwork Horizon.
The story follows the life of Malachi Covington, an affluent resident of Aerial City, who lives by the stringent expectations of his wealthy uncle. However, Malachi dreams of airships and adventure. He meets Ian, a charming airship pilot, who agrees to show him the ropes aboard the Mockingbird. With Ian's encouragement, Malachi breaks out of his shell and embarks on his own adventure.
The fun part about writing this novella was definitely building the steampunk world. Not only is it filled with airships and clockwork trinkets, but it also has a distinctive vocabulary and its own superstitions and lore. Developing the airship culture was my favorite part and writing Ian's view of the world versus Malachi's was an interesting dynamic to explore. I feel like these two have many more adventures to tell. One of those is the sequel, Clockwork Bargain, that I just found out is slated for release in November/December!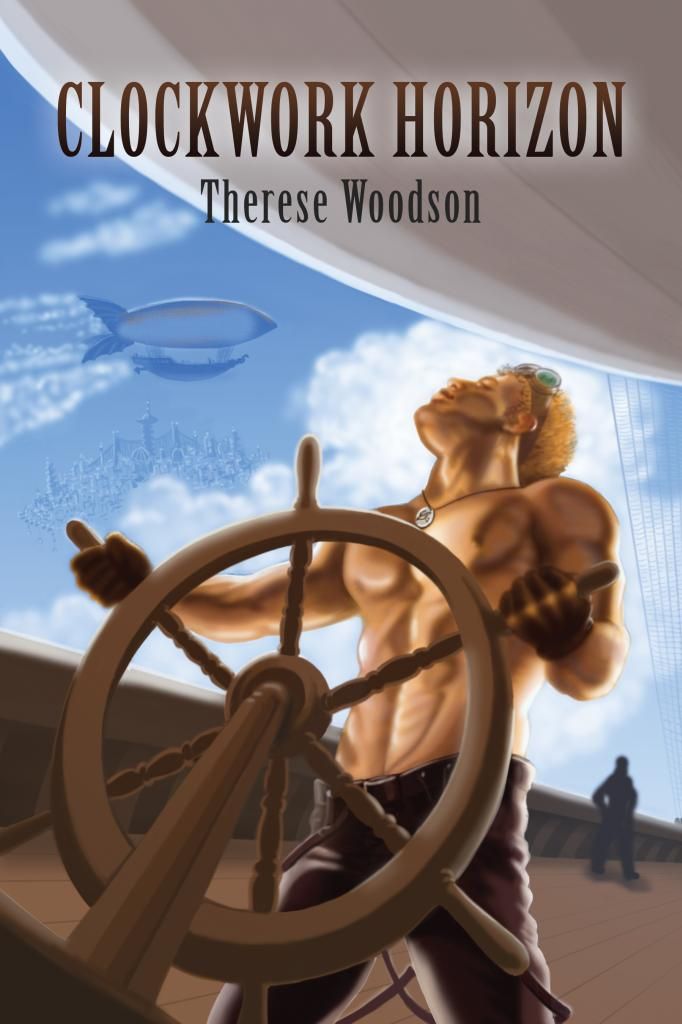 Official Blurb:
As a major airship port, Aerial City welcomes visitors from all over the world. Despite being surrounded by new inventions and colorful people, Malachi Covington partakes of little outside his books and studies. He aches for adventure and excitement but labors under the rules and expectations of his wealthy uncle.

Five airships arrive in port, keeping his uncle busy and, as Malachi's best friend Millie reminds him, they're carrying parties full of crew members. Excitement finds him in the form of Ian, a charming airship pilot who invites him to tour his ship, the Mockingbird. With Ian at his side, Malachi discovers a world beyond his books and takes daring steps to become his own man.
An electric tension rose in the air, a heady sense of attraction building in the scant inches between them. Malachi wanted to reach out and touch, trail his fingers over the soft-looking skin at Ian's collar, trace the shell of his ear, interlock their fingers. Malachi's body hummed with it, his skin tingling in the slight breeze, his face flushing with warmth.
"You…." Ian licked his lips. "You really are a sight for a man who has had nothing to look at but his crewmates and the sky for the past three months."
Malachi straightened from his slouch against the pub. It put him in Ian's space, something he hadn't planned but wasn't sorry for.
"I knew you worked on an airship!"
Ian raised an eyebrow. "I thought it was obvious."
Malachi winced. "Well, I don't… I've never… I'm not allowed…." He stuttered, curled his hands into fists, and blew out a breath. "I don't get a chance to meet many people."
"Really? What do you do, then?"
Malachi nervously licked his lips, and Ian's steady gaze dropped to his mouth. "I study," Malachi said. "I read."
"Books like on the merchant cart? The adventure ones?"
Malachi blushed. "I don't have much adventure in my life."
Ian reached out and brushed his fingertips along Malachi's wrist, and Malachi's fingers instantly slackened from their defensive curl. He took Malachi's hand in his, and Malachi snapped his mouth shut. He stared at the sight of Ian's fingers wrapped around his own, the contrast of tan and calloused against pale and soft. Malachi met Ian's gaze, and Ian stared at him, amused but fond.
"You don't have to explain anything to me, Mac," he said. "But I get the feeling you might like to come see the ship."
Malachi nodded, giddy with excitement, heart in his throat. "I'd love to."
Ian twined their fingers. "Good."
Author Bio:
Therese Woodson is a wife, mother of two, and writer of stories, who lives in the Blue Ridge mountains. She is an avid reader of all literature. She holds two degrees—one in Psychology and one in English Literature and hopes to pursue an MFA in Creative Writing in the near future. She is a fan of watching bad television shows, superhero movies, and anything sci-fi. She loves creating interesting characters, universes, and plots with happy endings.