Yes, the temperature is dropping and, for the first time in forever, I tugged on a pair of long trousers yesterday.
Do you know what that means?
I've been able to wear my Converse for the first time since threading my rainbow laces.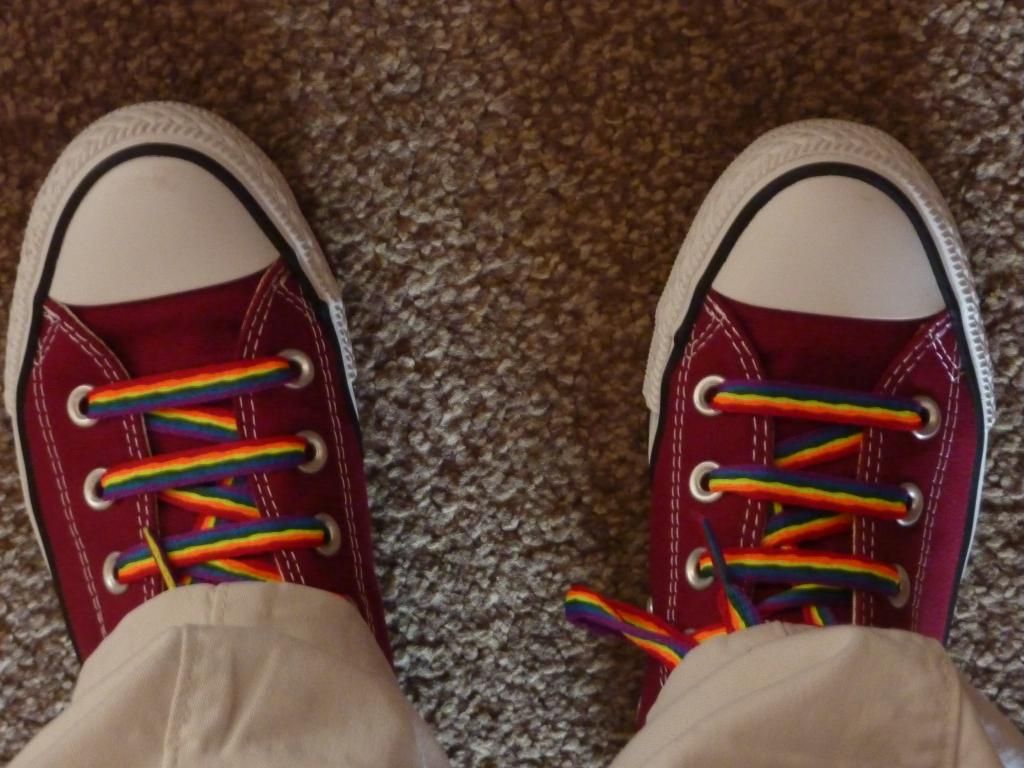 Okay, freaky angle to take your own photo, it makes my feet look tiny.
But I could hardly ask somebody else to take a picture of my shoes. Most people IRL already think I'm slightly mad.
Funky, eh? And a great match with my Converse.
But more importantly Rainbow Laces have been designed the raise awareness of homophobia in football (soccer). While other sportsmen and women have found the courage to be open about their sexuality, there are still no openly gay or bisexual professional players in the Football League in Britain.
That's a tragedy because footballers, for whatever reason, are seen by many young boys in this country as heroes. People to look up to and admire. To emulate. Haircuts, fashion, attitudes. Every time a footballer waits until they retire to come out they send a message to our young people. Unfortunately that message is not 'Yes there are gay players in the game and their sexuality doesn't affect how they play football' but 'I had to hide who I was to fit in'.
I'm not knocking anyone who decides to take that leap. Coming out is a courageous thing for anyone to do, whenever they choose to do it--at fifteen or fifty--and on whatever scale--to a few close friends and family or the world's press.
However, I fear that footballers who wait until their career is over before taking a stand send a jumbled signal to the youngsters that hero worship them, one that breeds an atmosphere of confusion and shame. And so the sorry cycle begins again.
If you want to learn more about the campaign to fight homophobia in football try the
Stonewall
website (worth it for the Arsenal Team's video supporting the campaign) or take to Twitter #RAINBOWLACES.